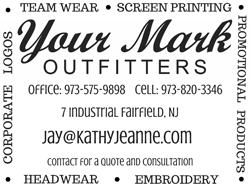 West Essex's senior strongman Luke Dignazio was one of the Knights' six individual county champions as he earned 5-3 decision over Seton Hall Prep's Zach Merlino at 182-pounds as Wessex finished a very respectable second to SHP in the final team standings, as Pirates won their fourth straight team title, 256-238.5, SHP had edged the Knights, 30-22, this season in highly-competitive dual match in the Super Essex Conference American Division. (Photos by Gene Nann-genenann.smugmug.com)
(continued from page 1)
West Essex's Alex Jones, who transferred from neighboring Caldwell in December with brother Darren, registered four straight pins, including in 1:20 over West Orange's top seed Colin Morgan in the 160-final, to finish with gusto in what was his first weekend of wrestling this season since recovering from a nagging ankle injury.
"This was my second day back and first really big match of the season," said Alex Jones, who had won a ECT title in 2017 as a freshman at Caldwell. "Stamina-wise I'm not really there yet, Morgan is a strong and tough kid and I knew I didn't want to go the full six minutes so I just waited for a moment to get him on his back and finish it which, fortunately, I was able to do.
"I love it at West Essex and I get to wrestle with (former ECT and state champ and West Essex assistant coach) Anthony Perrotti and a bunch of great coaches in our room so the transition has gone very smoothly for us."
The Outstanding Wrestler was Irvington's second-seeded Nashawn Brooks, who decisioned Verona's fourth-seeded Cade Byrne in the 220-pound final, emerging as the Blue Knights' first county champion since Garland Barham (285) in 2014.
"My coaches believe in me and they push us hard in the 'hot' room and we never stop trying to improve," said Brooks, who was also a standout linebacker for the successful Irvington football team in the fall. "I had wrestled him (Byrne) prior this season and had pinned him so I knew he would come with some energy.
"I had to work hard once he caught me and I was able to dig deep and win the match."
Another impressive individual victory was turned in by West Orange's third-seeded James Benjamin as he upset top-seeded Conner Decker of SHP in the 126-pound final. Decker had been a 2018 ECT champ at 113.
"Attack, attack, attack, that's what my coaches tell me and I knew that I had to work really hard and want it," said Benjamin. "I had earned my 100th career win in my first match (10-4 decision over Belleville's Brandon Costello), I had a tough match with (second-seeded Agostino) Petrillo in the semis (2-0 decision), and I knew Decker would be very tough, but I rode him out, felt really good in neutral and was able to earn a county championship which is a great feeling!"
On a night where there were certainly several individual heroics to remember and build on moving forward, the overriding message was that in a county tournament the 'team' concept is always a paramount tone in what is ultimately an individual sport in the end.
"It's easy in tournaments like this to forget about the team race, but we emphasize the team aspect and always look to score extra points for the team," said Decker. "And, that's the difference in the end."
For individual champs like SHP's Massa, who had to work extremely hard to edge Verona's tough football player Nick Riggio, 4-3, in the 170-pound final, it always comes back to the 'team' concept in a event like the ECT.
"Everyone works so hard in our room and it shows on the mats like you see tonight," said the Pirate junior standout. "West Essex is a very tough team and we had a close bout with them this year (30-22, on Jan. 9, in North Caldwell) which followed up with good competition for the team title with them here tonight, but I definitely like our balance top to bottom against anyone in the county, that's for sure!"
MAT NOTES- In a change of format this year, there were two championship bouts contested simultaneously on adjoining mats, which appeared to work well as the finals moved rather briskly along and the tourney was completed around 9 p.m. instead of stretching out to 10 p.m. or later as occurred last year....ECT co-directors and school AD's Anthony Minnella of West Essex and Joe Piro of Nutley did superb jobs organizing the event while receiving excellent assistance at the table from key people such as Patrick McGlynn and Allie Decker, both of West Essex, in keeping up with recording results and McGlynn on the public address announcements...And, as per usual, the array of referees were superb as everything ran smoothly on the mats with so many matches to contest in rapid fashion over the course of two afternoons and evenings....Essex County Chief of Staff Phil Alagia was also on hand to watch the proceedings in the well-lit Codey Arena...In the first two rounds of wrestling, SHP's depth truly shined as out of a potential 28 bouts, the Pirates registered 15 pins and three technical falls....One of the impressive aspects of the crowd inside Codey Arena was the very enthusiatic Irvington fan section always chanting support for their Blue Knights....History was made on Thursday in the ECT first round when girls competed for the first time.
2019 Essex County Wrestling Tournament Finals:
106: Dominic Tafuri, Cedar Grove, dec. Ricky Caamano, Caldwell, 6-3
113: Ricky Cassidy, West Essex, MD Anthony Fabrazzo, Cedar Grove, 11-0
120: Larry Melchionda, Seton Hall Prep, dec. Antonio Cuffari, Cedar Grove, 3-2
126: James Benjamin, West Orange, dec. Conner Decker, Seton Hall Prep, 2-0
132: Mike Ruane, West Essex, dec. Carl Banks, Irvington, 9-4
138: Darren Jones, West Essex, dec. Cole Carroll, Seton Hall Prep, 3-2
145: David Guerra, Belleville, pin, Devin Rocha, Columbia, 7:22
152: Jack Wilt, Seton Hall Prep, dec. Salvatore Mainiero, Nutley, 7-2
160: Alex Jones, West Essex, pin Colin Morgan, West Orange, 1:20
170: Michael Massa, Seton Hall Prep, dec. Nick Riggio, Verona, 4-3
182: Luke Dignazio, West Essex, dec. Zach Merlino, Seton Hall Prep, 5-3
195: Austin Paris, Livingston, pin Drew Mitzak, Seton Hall Prep, 3:17
220: Nashawn Brooks, Irvington, dec. Cade Byrne, Verona, 11-7
285: Bardhyl Gashi, West Essex, dec. Niko Diakides, Seton Hall Prep, 4-2 (UTB)

TEAM SCORES:
Seton Hall Prep 256; West Essex 238.5; Nutley, 124; Verona 108; Cedar Grove 106; Bloomfield 104; Livingston 95; West Orange 95; Irvington 86; Caldwell 74.5; Belleville 68.5; Columbia 63; Montclair 49; Orange 42; Millburn 23; East Side 15; Newark Collegiate 14; Newark Academy 8; Barringer 5; Glen Ridge 3; EOC 0
Follow Steve Tober on Twitter @Chattermeister
Seton Hall Prep wrestlers let everyone know they have recorded a '4-Peat' by capturing their fourth consecutive Essex County Wrestling Tournament title and seventh overall.
Copyright 2005 Sideline Chatter - comments - contact the webmaster